About Italian Pizza Cheese
Here is a nice bit of information on Italian Pizza Cheese. When making pizza you should try them all in any combination. They add great flavors and really make the difference for great gourmet pizza.
FONTINA D'AOSTA
Region of Origin: Parma, Reggio Emilia, Modena, and Bologna in Emilia-Romagna; and Mantova in Lomardy. Type of milk: Cow
Aged: 3 months or longer Notes: Perfumy, fruity, and brazen—this is the Italian answer to gruyere. Fontina d'Aosta is made from the raw, fresh milk from a single milking of Valdostana cows in the Valle d'Aosta, in the Italian Alps. These 20-ish-pound wheels are firm and supple. Real, DOC-protected fontina's flavors are a grand symphony of fruits and nuts and herbs.
PARMIGIANO-REGGIANO
Region of Origin: Emilia-Romagna
Type of milk: Cow
Aged: About 2 years
Notes: An enormously flavorful, important cheese. Law dictates that Parmigiano-Reggiano can be made only between April and November so that the cow's graze on fresh, verdant pastures rather than dry hay. The milk, and thus the cheese, adopts a remarkable complexity of flavors—at once spicy, salty, briny, black walnutty, and lavishly piquant. Will melt in your mouth and tingle your tongue, or make the flavors in your cooking sing. Serve: On top of Pizza when cooking or as finish great on pasta, risotto, eggs, veggies, meat dishes, salads, soups. Break out a big, bad Italian red: Barbaresco, Barbera, Barolo, Brunello, Chianti, etc.
MOZZARELLA DI BUFALA
Region of Origin: The area south and west of Naples
Type of milk: Water buffalo
Aged: As little as possible. Best the same day it's made, or a day or two after. Most imported Buffalo Cheese is frozen but still great!
Notes: Water buffalo give this singular cheese an exceptional depth of flavor and sweetness. Moist, sweet, tender, meltingly soft, buttery, milky, and totally unique. The pull-apart texture echoes how it's made: mozzarella is a spun cheese or pasta,https://en.wikipedia.org/wiki/Pasta_filata  usually by hand.
Serve: Great For Neopolitan style pizza This is what The Neopolitan Pizza Gurus consider to be Italian Pizza Cheese. It has some water so don't use too much. You can let the cheese drain for a while before you use it on pizza. It also makes a great mozzarella, tomato, Region basic salad. Use some  EVOO, flaky salt, and a grind of black pepper and a drizzle of balsamic ! ..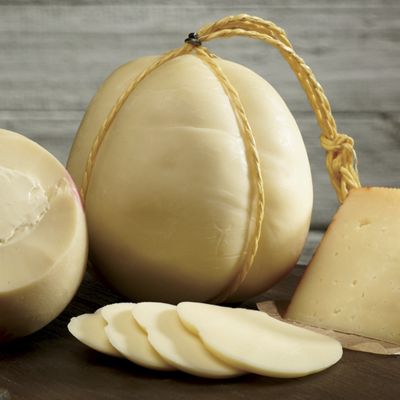 Po is The region of Origin: Basilicata, in Southern Italy, but now provolone is made and enjoyed throughout the country, in different shapes and styles. Type of cow milk: C Today, the major production of Provolone takes place in Po valley region, particularly Lombardy and  Veneto
Aged: Varies greatly from a few months to over a year. More age means sharper, more intense flavor.
Serve:  Makes a great pizza by itself or combined with shredded American mozzarella. Its stingy and melts beautifully. A great sandwich cheese with broccoli rabe, or roast pork, or meatballs. Melt in omelets. Or serve with a cold beer and a bowl of olives.
ASIAGO
The region of Origin: From the Po Valley to the Alpine pastures between the Asiago Plateau and the Trentino's highlands.
Type of milk: Cow
Aged: From a few weeks (fresco) to nearly a year (Vecchio).
Notes: This is a cheese that goes down easy: mild, lactic, supple. Young asiago is springy and soft; with age, the texture changes to hard-as-Parmesan. The flavors intensify in the aged varieties but never become sharp or biting.
Serve: A perfect Pizza Flavor booster we love to grate this cheese on put just a pinch on all the pizza we make. It's also a perfect munching cheese, especially with salami, good bread, and an amber ale. Fresco is best for sandwiches and salads; aged asiago is great grated and strewn on pasta, salads, and grains and Pizza!
ROBIOLA PIEMONTE
Region of Origin: Piedmont
Type of milk: Robiola is the generic name for fresh, snowy cheeses from Piedmont made with cow, goat, or sheep's milk; or often a combination of the three.
Aged: About a week
Notes: Moist, tangy, rindless, with a just-about-to-melt ice cream texture. This is a really lovely family of cheese–Italy's answer to a triple-crème. The cream is often added, and the flavor is usually creamy, soft, and sweet. I like Robiola Bosina, made with the "due latte" of sheep and cow's milk; and also Robiola Rocchetta, made from all three kinds of milk and relentlessly dense and lush.Serve: With a glass of Prosecco, or a salad pizza!
So make great pizza and discover all types of Italian Pizza Cheese !!
---
Backyard Brick Ovens
We are the brick oven experts. Our team of artisans and World Champion pizza makers have been building and designing custom wood fired and gas brick ovens worldwide for over 20 years. We have Combined Modern Technology and Old World Tradition to Produce The World's Best Ovens! Complete Consulting on All Pizza Concepts, Pizza School Taught by world Champion Pizza Makers) Test Kitchens.
---